Noel Crane is a principal character on WB series Felicity. He is portrayed by Scott Foley.
Character
Noel is a capable, smart, cute and funny guy, who considers himself a geek and sometimes rambles nervously when he's out on a limb. He is a dedicated student, well-versed in graphic design and suffers a minority complex at times, due to his older brother's success (in graphic design, no less), which is exacerbated by his rivalry with Ben. After his sophomore year, he feels like he loses his way in life and becomes depressive at times. Eventually, Noel finds out who he is and what his life is going to be as an adult. As a sophomore, Noel is the resident advisor on Felicity's floor.
Series arc
SOPHOMORE
After a presumably quiet freshman year, while in a long-distance relationship with his girlfriend Hannah, Noel decides to become a floor RA at Kelvin Hall. Through this position, he encounters an array of strange incidents and people, which leads him into strange situations or positions at times. He quickly befriends Julie and develops a crush on Felicity, while eventually becoming friends with Elena.
Relationships
One of Felicity's two main love intrests, the other being Ben Convington. He has develops a crush on her early in season 1.
Noel's girlfriend of two years. He began dating her before Felicity arrived at University of New York, and struggled with more feelings for her still at the end of the first season.
Ruby was in a class where Noel was a TA (teachers assistant). They became a couple and were going steady for the first half of season two. It all came to a halt when Ruby was offered a role in a movie that was shooting in Las Vegas. Soon after she came back, she discovered she was pregnant. Noel was first believed to be the father, until she did an ultrasound that confirmed the date of the conception was when she was away for the movie. She admitted to having an affair with a director and left New York to raise her baby back home with her parents in the season finale of season two.
Natalie
Noel met Natalie right after Ruby had left New York and he was in a very unstable mindset. They ran off without leaving notice, and stayed away for the entire summer. Once they returned for season three, they were married and Noel was not interested in returning to his studies.
Trivia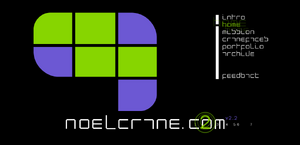 Scott Foley and Jennifer Garner (Hannah Bibb) married in real life
Noel prefers Macs to PCs